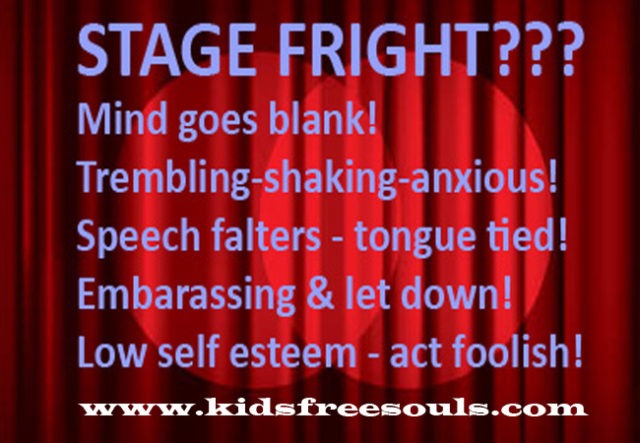 Stage fright or performance anxiety is something that is very common among all of us and even children. Often, in school you may be asked to come up on stage and give a short speech or be a part in the debating team.
But, if you find nervousness creeping in you, your hands would shake, voice falter and heart keeps pounding – chances are that you have a Stage Fright. Anyone who is participating in an activity that will bring them into close or direct contact with a small or large audience can experience stage fright. Often it happens, you are told to give a speech and words either roll out which goes out of topic sometimes or it's just you start fumbling for words. May be, you are not scared of the Stage but it's a speech faltering. Whatever, the stage performance weakens.
If you find yourself in such situation, never try and shun public performances altogether. This is a mistake. Stage fright is something that you need to overcome. But how? So, here we go:
1. Be positive : Meditate before you begin. Close your eyes and be positive. When you have a speech performance, begin with a quote. Or, when you have a stage performance, murmur to yourself a quote that builds your confidence or say to yourself, 'I can do it' and you will.
2. Don't be nervous : shrug off the blues and don't be nervous. Negative thoughts are not to pop up in your mind
3. Be prepared : Be well prepared before you go to stage. Memorize your words or focus on what you have to say.
4. Eye contact : Do not focus on a single eye contact. Let your vision be focused on the audience in whole without allowing your eyes to wander.
5. Focus on the character : When you are on stage performance, focus on the character you have to play and not yourself.
6. Concentrate : Do not allow your memory to lapse. Concentrate. If you let your mind wander, your dialogues will start fading.
7. Don't Listen to audience : While performance, don't listen to the comments of audience – bouquets or brickbats. If your performance is found good, audience is apt to be emotional and their emotions might distract you to make mistakes. So, stay focused.
8. Be your usual self : Don't do anything unusual when you have to go for stage performance. Do not break your routine schedule. Don't skip meals nor sleep less. This may only disturb your health.
Stage fear Anxiety need to be let off. Getting nervous before presentation is a common reaction which comes once for everybody's lives. When you face challenges, it's a fight or flight response.
I felt the Stage anxiety when I did have to stand up to an audience to give self introduction which is quite lengthy professional data and made me confused as to what to say. It made me real confused and falter.
Hence, first priority should always be 'get well prepared.' and avoid spontaneous speech. In case you have to be prompt speaker, do it with ease, calm and composed and this comes with of coz, a routine reading, meditating and music.
Moreover, Be your best, dress your best, do your best and perform the best.