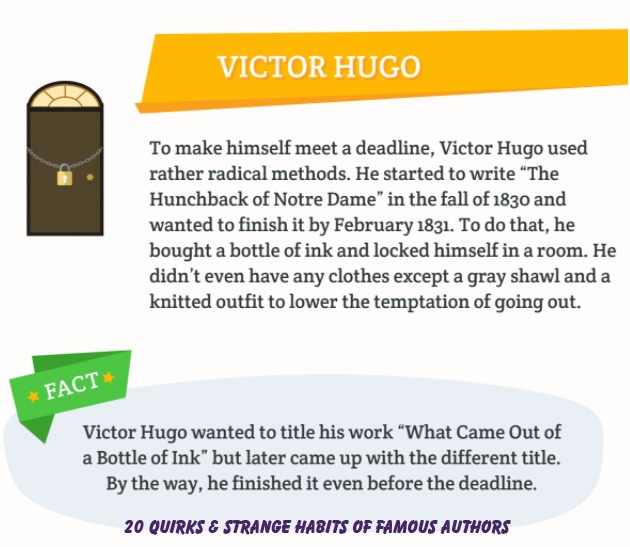 It's Ok – Writers should be Strange ! A simple writing habit changed my life as an Author of Guardian of Angels and life is ever on a fast track lane performing roles. Reading is my super power and so is writing – writing Contents and Book Reviews. My habit revolves around using my Library – reference books or just hug my Books cupboard and writing comes naturally. Another habit has always been Listening – Listening to Western Pop in the background, speed thoughts and writing comes automatically ! And I Admit, I ain't famous but sure inspired with many well known and famous Authors who had wierd or strange habits that hooked them to writing and even cope with the writers block. Every writer has a strategy as they pen words. A piece of a genius has remarkable skills and intelligence. Passion plays a role and so do habits – be it weird or die hard habits !
Check this Infographic :
20 Quirks and Strange Habits – The weird side of Famous Writers :
Source Credits:
About the Author: Jack Milgram is a writer at Custom-Writing.org. He started his freelance career when he was a student. Jack has been interested in writing since he first took pen and paper in his hands. And he never stopped writing ever after. He loves combining his job with traveling around the world.