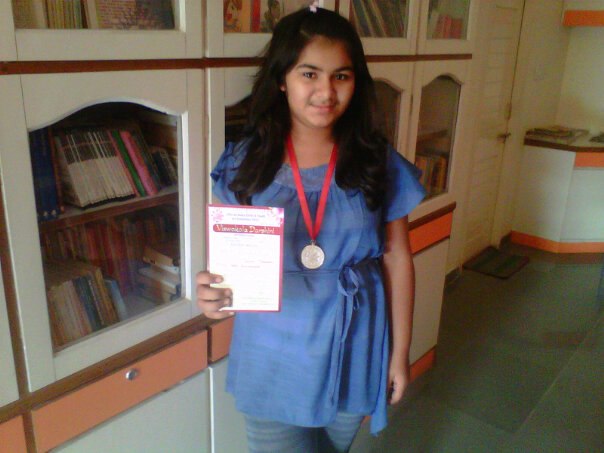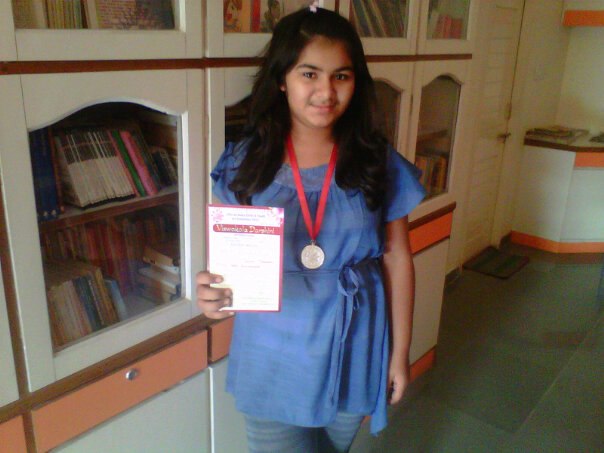 KIDSFREESOULS : KIDS REPORTER
TASHA THAKKAR
Age: 12 years
I am Tasha. I love to read and paint. I am creative and always keen to explore new things.
JOKES BY TASHA
MONTY: My dog is very smart. He understands English.
PINTU : I know
MONTY : But, How do you know?
PINTU: My cat told me.
A little girl at a fruit shop with a banana peel in her hand
Vendor: Little Girl, What do you want?
Girl: I want a refill for this peel.
Ram : Who smokes the most in your house?
Hari : My Chimney, of course.
QUOTES FOR YOU
Sound becomes music, Movement becomes dance, Smile becomes laughter and Life becomes celebration – When Friends Keep in Touch!
World's Best Quote from a True Friend: When I'll die, don't come near my body coz, I'll feel bad that my hands can't come to wipe your tears this time…..!
Me and my Friends at a Sports Session – Spotted is Skating Champion Vishwaraj Jadeja who gave us great Sports Tips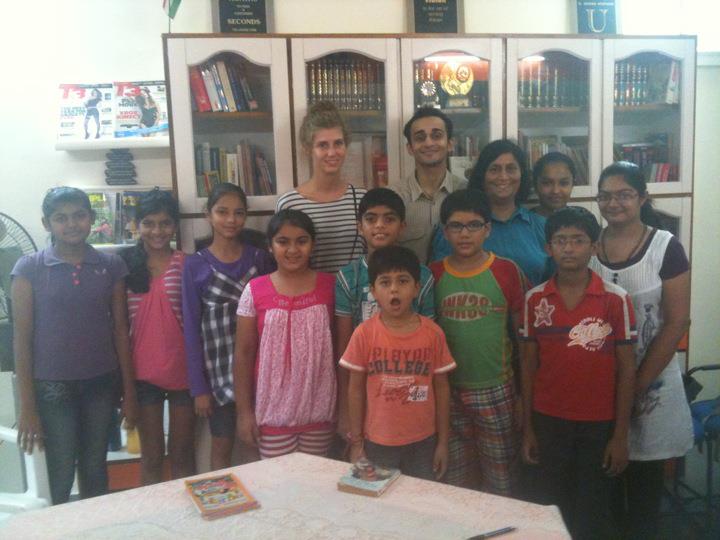 I am fascinated with the joys of Reading. I aim to present my amazing experiences at the Library and share Inspirational stories. Stay tuned.
KIDS SCOOP – INTERVIEWS BY ME
In this column, I shall be presenting kid's interviews regarding their favs. and even ask them on whatever topic that is interesting.
INTERVIEW by TASHA
Interview with Nesvi Shah
1. Are you on Facebook?
Nesvi: Yes, I am
2. What attracts you to do Facebook?
Nesvi: Playing games, chatting with friends, putting new status – It is my favorite hang out!
3. Do you think it is good for children, why?
Nesvi: I think, sometimes good and sometimes bad. Some children misuse it – It is good as far as we can talk to our friends and cousins away from us. Bad if we hang on for more hours and waste our precious time studying, playing games or being with family and television. Also chatting to stranger friends is not good.
4. From how many years are you using Facebook?
Nesvi: Three years
5. How much time do you spend on Facebook per week?
Nesvi: One hour
6. What kind of Status you put?
Nesvi: Jokes, Quotes, Inspiring thoughts.
7. What kind of games you play on FB?
Nesvi: Cityville, Uno boost, etc.
STORY BOARD BY TASHA
I am fond of reading. Here is my 'Story Board' – List of all the stories I have read. I will keep adding more stories to the list and also find reviews. So, stay tuned.
Classics Tales for Children
Part 1-2-3-4
(fifteen well loved stories of the world)
Vikas Stories for Children
Volume 1-2-3
My Bed Time Stories
Champak
Junie.B Jones by Barbara Park
It's Story Time
(Stories for Children)
Thief caught red handed
Dabbu's suit
The Little Gold Fish
A dumb friend
The Monkey and the crocodile
Donkey's Guru
Sculptor
Friend or Foe?
Tommy and the Naughty bug
Third floor
The fox and the cock
The Dog master
Drake, the litter bug
Selfish Ramu
Shamu, The Artist
Grandpa and Earthworm
The hidden treasure
The Wolf in sheep's clothing
Saved life of Ajay
The boastful bear
The clever sheep
The bee and the dove
Chintu and the vendor
The Marc of wisdom
Little Tuk
Juno and the Monkey
Grandpa and Shark
Two Friends
The seven wives of blue bird
Allu and Ellu
POETRY I LOVE
India
India,
A strange and wonderful land,
Teeming with people,
And temples so grand.
Exotic spices,
So tasty to eat,
A delicious blend
Of sour and sweet.
The ladies wear saris
With elegant charm,
They fill their homes
With peace and calm.
There are merchants, wise men,
Beggar-men, too
Each one with a story,
And most of them true.

More Poetry by kids and How to write a Poetry
Thank you for reading my Blog. For my Blog Archive,
{jathumbnail off}