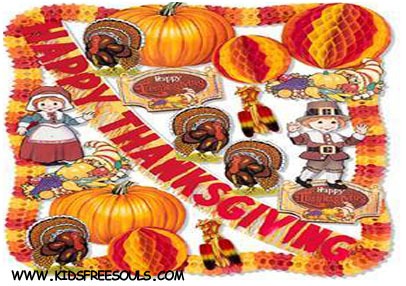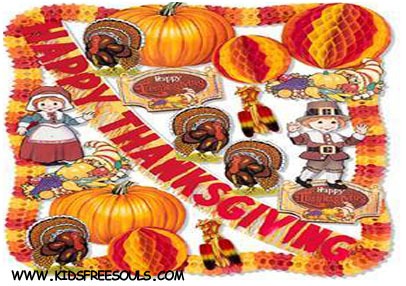 Gandhiji had been Mascot followed by Sadhu Vasvani (25th November is Non Vegetarian Day) for vegetarianism. He said, "Take food as medicine and not in order to gratify the palate. Eating non veg itself brings out evil thoughts in human minds who become violent and destructive.
Now, as we shift towards the next universal festival 'Thanksgiving Day', (Fourth Thursday in Nov in US)
it's amazing to know about the pilgrims and how people started celebrating this day when I read Ann McGovern's Book 'The Pilgrim's First Thanksgiving'. Kids in west marvel at Thanksgiving daycelebrations and they smack their lips at many food dishes that were eaten at the first Thanksgiving like wild turkey, geese, ducks, deer, lobsters, clams, oysters and fish along with vegetables and pop corn. Even here, more Gen Y is towards eating Non Veg and it's becoming a fashion n style. A simple argument goes, "If all eat veg, there will be more need of food and people would starve'
This reminds of a proverb which is rightly said, "What you think, you cook and what you cook, you eat and what you eat, accordingly thoughts flash in your mind". So, Check it Out! Avoid Flesh, Avoid Fish and Avoid all the Non Veg dish! Go Vegetarian. After all, its your Life – Attitude makes a big Difference! Here's my Recipe for Life – enjoy!
Keep the Faith!



– ilaxi patel
Editor Online, kidsfreesouls.com
H

APPY THANKSGIVING DAY
4th Thursday in November
Search 'thanksgiving' – 'Thanksgiving Arts and crafts for children' 'thanksgiving 2008' 'thank you notes for kids' in Google Search here
Fourth Thursday in November is celebrated as 'Thanksgiving Day' People thank God for his blessings. People can 'Thank' friends, foes and anyone for the experiences, happiness and sunshine they bring into their lives. Pilgrims celebrated the first Thanksgiving Day in America during the second winter in the new world. The first winter had been bad as nearly half of the people had perished due to lack of food and bad weather. But the following year, with the help of Indians who showed them how to plant Indian corn, the pilgrims had successful harvest. Governor William Bradford decided that December 13, 1621 be set aside for feasting and prayer. The Indians were invited to share the festival. Since than, Thanksgiving Day is been celebrated in America. However, it was only in 1941, the Congress in a joint resolution named the fourth Sunday in November as the official Thanksgiving Day.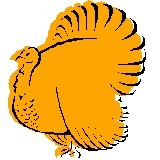 Dating back, it is known that the Council thought to appoint and set apart the 29th day of June, as a day of Solemn Thanksgiving and praise to God for his Goodness and Favor. The First Thanksgiving Proclamation was however on June 20, 1676. The governing council of Charlestown, Massachusetts, held a meeting to determine how best to express thanks for the good fortune that had seen their community securely established. By unanimous vote they instructed Edward Rawson, the clerk, to proclaim June 29 as a day of thanksgiving, It is also known that the Pilgrims set ground at PlymouthRock on December 11, 1620. Their first winter was devastating. At the beginning of the following fall, they had lost 46 of the original 102 who sailed on the Mayflower. But the harvest of 1621 was a bountiful one. And the remaining colonists decided to celebrate with a feast — including 91 Indians who had helped the Pilgrims survive their first year. It is believed that the Pilgrims would not have made it through the year without the help of the natives The feast was more of a traditional English harvest festival than a true "thanksgiving" observance. It lasted three days.
HOW TO TEACH CHILDREN TO WRITE THANK YOU NOTES
* Writing Thank you Notes (IN MOMS ZONE)
PRINT THANKSGIVING CARTOONS WITH YOUR MESSEGE
WORD SEARCH – THANKSGIVING WORDS
Word Search Worksheet – Thanksgiving
MORE LINKS ON THANKSGIVING
Thanksgiving Holiday Crafts and Recipes for Kids
In the News (NYT) : A Thanks Giving Tradition
Write Thank You Notes – How? Find Here & Here
Gift a Frame – On any Occasion
SEARCH MORE SITES ON KIDSFREESOULS SEARCH HERE WITH KEYWORDS:
Thanksgiving day, Thanksgiving for kids, thank you notes for kids
Here's a very thoughtfully written Editorial Article from New York Times and I am sure, you might start brooding over this – What would our lives look like if they held only what we'd planned? Where would our wisdom or patience — or our hope — come from?
We can toast our lives with 'thanksgiving' to god in an amazing way to join hands and pray for peace as this is the only thing – the need of the hour!
Thanksgiving Day in India – In India, people do not celebrate Thanksgiving Day. However, here's a site with infoon Thanksgiving Day in India. Christians in Goa celebrate the festival!
Thanksgiving Date 2009-2015
Thursday, November 26, 2009
Thursday, November 25, 2010
Thursday, November 24, 2011
Thursday, November 22, 2012
Thursday, November 28, 2013
Thursday, November 27, 2014
Thursday, November 26, 2015
---
---
International Vegetarian Day-Meatless Day
Go-vegetarianism – all 365 days. Gandhiji has been the Mascot followed by Sadhu Vasvani (25th Nov also Non-Veg Day) for Vegetarianism. Gandhiji's ideology of khadi, vegetarianism and the natural way of life is observed in many parts of India. Gandhiji has said "Take the food as medicine and not in order to gratify the palate. Keep mind and body fully engaged in acts of service. Meditate on God as 'Truth'. It is necessary to keep healthy. Eating meat itself brings out evil thoughts in human beings which make him violent and destructive. The proverb is rightly said "What you think, you cook and what you cook, you eat and what you eat, accordingly, thoughts flash in your mind" So, Check it out! Avoid flesh, avoid fish, and avoid all such non-veg dish!
Go-Vegetarian

KIDSFREESOULS WISHES THANKSGIVING DAY & a MEATLESS DAY TOO

{jathumbnail off}