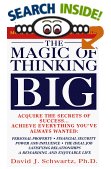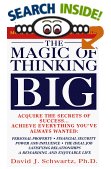 The Magic of Thinking Big by Dr.David Schwartz
Review by: ilaxi patel
"As one thinketh in his heart, so is he" Think big and you'll live big. You'll live big in happiness. You'll live big in accomplishment. Big in income. Big in Friends. Big in respect.Magic of Thinking Big by Dr. David Schwartz is full of promises to turn dreams true!
When one starts dreaming, thoughts create action and this is when one realize 'Thinking power' is more effective than one's intelligence! All one need to make another big Resolution is to eliminate the word `Impossible' which is a failure word. "Won't work", "Can't be done", "It's useless", "It's stupid" and such thoughts should never let a person shrug off helpless but instead "I-can-do-better" attitude makes a big difference. The author says, Some people have a belief "You-can't-get-ahead-so-don't-bother-to try' but this is absolutely a lame excuse and if you `Think Big', there is a sure way that lets you climb a few steps grabbing in the moments of opportunities and experiences that come your way. And believe me, I adopted this Magic – Sure stepped me up 'Thinking Big' Dr. Schwartz cover all factors, to sum up:
1.Be likeable. Practice being the kind of person people like. This wins support and put fuel in their success-building program.
2.Be friendly. Take initiative and introduce yourself to others at every opportunity. Scratch out the negative influence from your records.
3.Accept human differences and limitations. All people cannot be perfect. So, don't anticipate perfection and don't criticize. Each person has a right to be different.
4.Tune into `Good Thought Station' Think Positive.
5.Practice conversation generosity. Act like successful person and you are! Encourage others to talk. Let others talk to you about his views, opinions, and accomplishments. Just Ask! In process, you get your own answers to your questions too.
6.Practice courtesy. This makes others feel better and you feel better too.
7.Don't blame others when you receive a setback. This will lose your own determination to face challenges.
Let this be a Resolution forever!
{jathumbnail off}