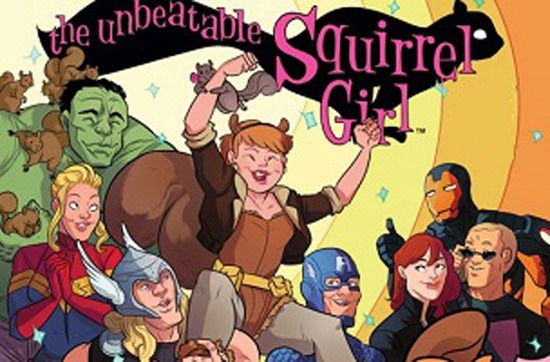 Marvel Comics announced its intention to publish a new stand-alone New Squirrel graphic novel "The Unbeatable Squirrel Girl Beats Up the Marvel Universe"
It's a stand-alone adventure that's both great for new Squirrel Girl readers, and also for people who ALREADY know about how she can talk to squirrels and also punch really well!
Squirrel Girl Doreen Green has conquered school, Galactus, Doctor Doom, Thanos, and even an Asgardian squirrel god, but now she's about to conquer what could possibly encounter her most dangerous, most powerful, most unbeatable enemy yet: herself. The new story that writer Ryan North and Artist Erica Henderson are telling pits Squirrel Girl against a new and dangerous enemy: an evil duplicate created through a combination of computer and regular science. "The nice thing about Squirrel Girl is that she's smart, and she looks for situations that don't necessarily involve punching people all the time," says Ryan North.
Comic Book Resources reports that the publisher has brought on Erica Henderson, an artist, and Ryan North, a writer, to work on this project. The release date for The Unbeatable Squirrel Girl Beats Up the Marvel Universe has been scheduled for October 2016.
Sources:
http://news.google.co.in
http://marvel.com/comics
Also on:
http://www.comicbookresources.com/article/c2e2-unbeatable-squirrel-girl-beats-up-the-marvel-universe-ogn-set-for-october
http://www.ew.com/article/2016/03/19/marvel-squirrel-girl-graphic-novel