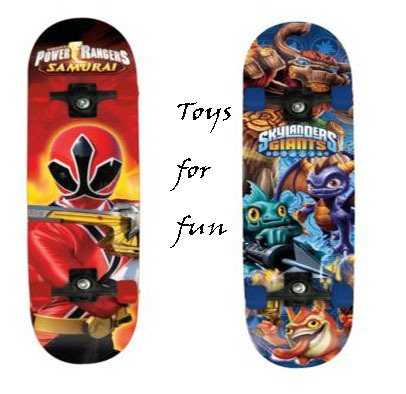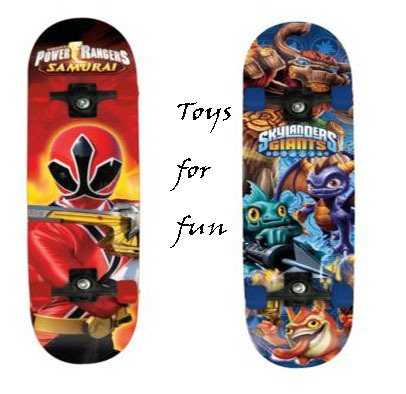 As summer approaches, parents everywhere will be desperately searching for ways to entertain their children. Finding appropriate toys to keep them occupied can give a parent a fantastic start to the summer blues that inevitably set in over the long holiday period. To avoid boredom, treat your kids to some worthwhile toys this year to promote activity and inspiration in their lives.
Keep them active
It is important that children understand the importance of keeping active. Keeping fit doesn't need to be boring; the right tools will ensure your child isn't even aware that they are doing any exercise.
Skateboards
Skateboards are really cool for kids to play with. The amount of tricks to learn and new skills to accomplish will ensure hours of endless fun over the summer. Get skateboards with cool art work and graphics to show your child you've put a lot of thought into their gift!
A scooter is a fairly robust gift, suitable for a wide range of ages. With many different types available on the market, from a fairly cheap standard scooter to a more upmarket Flicker scooter (yes, this has two platforms!), there is sure to be something for everyone across the range.
Feed their mind
Buddha once said "All that we are is the result of what we have thought. The mind is everything. What we think we become". Allow your child to dream, to escape, to experience and to believe by providing them with the necessary tools in their journey through life.
E-Reader
There are many different types of E-Readers. Some are just book readers, but as the advancement of technology increases, the ability to access the internet and all that it holds is now available in many E- Readers. These portable machines are a fabulous way of allowing your child to read without being bogged down with heavy books. Send them out into the garden on a sunny day with a blanket and an E-Reader and allow them to enjoy the simple things in life! Books may not be cool but E-Readers are fast becoming the much sought after item!
Camera
Providing your child with a camera will allow them to explore the outside world with new eyes. The ability to enhance their pictures digitally will be an extremely fun task for them, with the possibilities of T Shirt printing, card making and sticker creating an extra bonus. Unleash their creative side with their very own digital camera!
There are many ways to keep the kids entertained this summer. By getting organised early, you will allow your child to explore, create, exercise and feed their mind, ensuring maximum enjoyment for a stress free holiday.
Join Kidsfreesouls other Followers on Twitter | Facebook | LinkedIn | Pinterest | G+