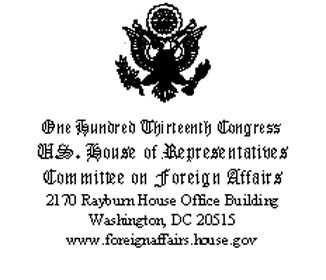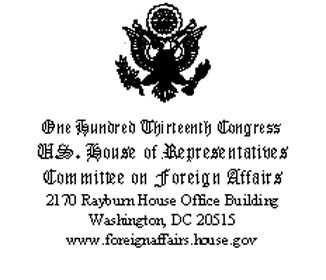 Ranking Member Eni Faleomavaega of the Subcommittee on Asia and the Pacific announced that at today's hearing entitled "The Rebalance to Asia: Why South Asia Matters (Part I)", he called upon the United States to begin a dialogue with Chief Minister Narendra Modi of India's Gujarat State. Faleomavaega's full statement was made part of the historical record and the text pertinent to Chief Minister Modi is included below.
The Honorable Robert O. Blake, Assistant Secretary for South and Central Asian Affairs at the U.S. Department of State, and Mr. Joseph Y. Yun, Acting Assistant Secretary for East Asian and Pacific Affairs, testified before the Subcommittee on behalf of the Obama Administration.
"I want to suggest that it time for the U.S. to begin a dialogue with Chief Minister Narendra Modi of India's Gujarat State who may very well be India's next Prime Minister," Faleomavaega said. "The U.S.-India relationship is significant. It is one of the defining partnerships of the 21st century, and CM Modi is a leading figure."
"CM Modi's philosophy of bringing development to 'the doorstep of every poor person, every farmer, every worker' is a philosophy that transcends caste, culture, regional and religious differences and has led to a decade of unprecedented growth and development in Gujarat – a key State – which has contributed considerably to India's economy."
"Companies like Ford and General Motors are setting up factories in Gujarat in a move that promises to strengthen U.S.-India trade and investment. And with delegates from more than 121 countries attending the Vibrant Gujarat 2013 Summit to explore business opportunities and forge strategic partnerships, it could be argued that Gujarat – an economic powerhouse – is now the global gateway to India."
"While I am aware of the 2002 communal riots and see eye to eye with the national and international community that what happened calls for justice and accountability, the fact remains that after an investigation that has been ongoing for almost a decade, India's Supreme Court has not found any evidence against CM Modi. So I question the Supreme Court's recent decision to allow for a new petition to be put forward."
"I believe such action is politically motivated and that the U.S. should shift its attitude and extend the hand of friendship to CM Modi, just as the European Union and the UK are doing, given that CM Modi is the frontrunner among the Bharatiya Janata Party's prime ministerial candidates and that India is essential for the success of the U.S. rebalance to Asia."
"Now is the right time for engagement and I sincerely hope we will begin to engage sooner rather than later," Faleomavaega concluded.
Sources: One Hundred Thirteenth Congress, U.S. House of Representatives,Committee on Foreign Affairs
Washington Press note (www.foreignaffairs.house.gov)