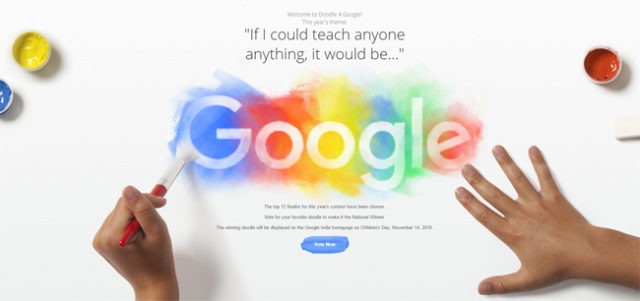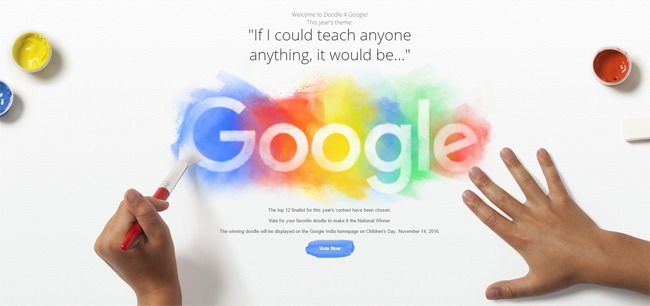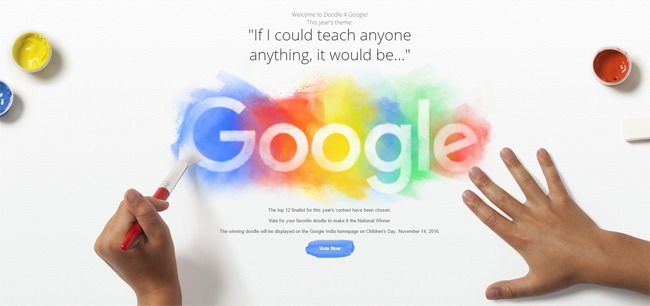 If I could Teach anyone anything, it could be…..
Yep, the Google Doodle 2016 Competition for students have finalised 12 finalists for this year's Google Doodle Competition. Vote for your Favorite Google Doodle and make them win on 14th November 2016.
The winning doodle will be displayed on the Google India homepage on Children's Day, November 14, 2016.
Doodles are grouped by the student's class. Class groups are broken down as:
Class 1 – 3
Class 4 – 6
Class 7 – 10
4 participants are selected for the final and your Vote Counts. This does not mean that the losers will not win because in the process, all the participants who could not make it, have also learnt, explored and experimented that drawing, coloring and used their thinking caps to explain with the medium.
Warming up the brain tools and doing the classroom activities has been fun for many students and Teachers.Classroom activities were designed to help students (and individuals) stretch their creative muscles and warm up for the Doodle 4 Google competition with featured videos here on Google Doogle Page.
Imagine, Create, Share and Collaborate – the classroom activity nevertheless has been fun even at the Swagat Children Library Classroom. Ideas always mean something to derive to great results whether some children participate or not. Google just gives an opportunity and the Learning Process is on.
Save Environment, Stay safe with Traffic, Save Water, Good Habits, Books and Reading, creativity, Excersie for Health, Discipline, sign language, enjoying moments to relieve stress, etc. topics were covered as children conveyed their message.
Enjoy the Doodles. Go, Vote at Google Doodle as Public Voting ends on 10th November 2016.