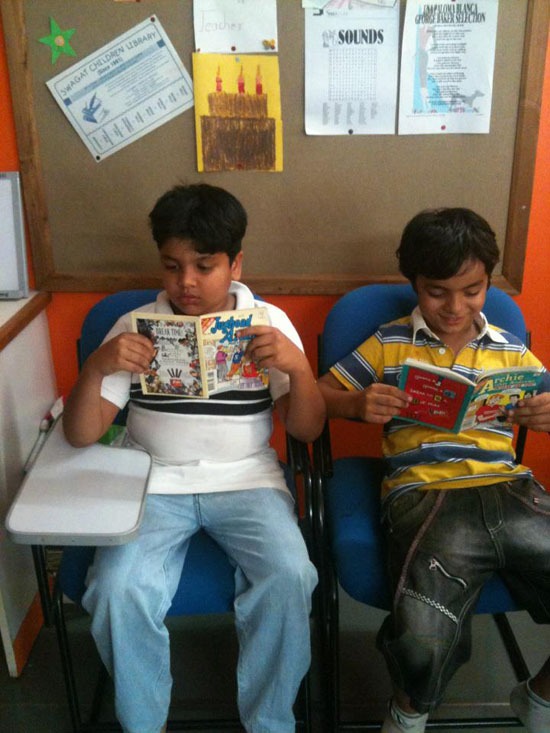 Swagat Children Library aims to Improve Student Literacy and
Creativity. Always a step ahead in Creative Activities, with Technology shaping up lives of Children with Social Networking on a rise, I have opted for Student Blogs to help children to use Social Networking sites like 'Facebook' in a constructive way. My approach is to encourage
and inspire children for 'Any time, Any where Learning' and enable learning and assistance outside of Swagat Library hours.
Times have changed and we need to motivate our children to use Internet positively and with moms/teachers, explore to boost knowledge sharing platform.Swagat Children get a chance to display their work to +190 countries through Kidsfreesouls Global Network.
Here is a glimpse into Blog Preparations that I conduct for my students. I am sure, this will help many parents and teachers to help children for preparation to new generation computing on the web. Do give me your feedback, drop in your comment mails or ask a question and I shall be pleased to hear from you. You may even explore Swagat Children Library Page and visit Kids Blogs. Enjoy.
– ilaxi patel
About me
WHY MAKE STUDENT BLOGS
Improve Student Literacy and Creativity
* Increase Student writing as the Interactive publishing is viewed as an enjoyable activity
* Encourage students to explore, express, appreciate/criticize, collaborate and share
* Allow wider participation as reluctant learners often open up online
* Use as a base for collaborative activities
* Post observations while taking interviews of friends, etc.
* Broaden the use of computers – tools and techniques of computing
* Constructive and creative way of using Social Networking and promoting
ANY TIME, ANY WHERE 'LEARNING ASSISTANCE'
* Enable learning and assistance outside of Swagat Children Library (or classroom)
* Maintain communication
* Allow online submission and review of Student work
* Manage, present and store information easily
* Post Homework assignments and classroom activities
* Know the child's taste of writing and creative activities
* Together explore social networking and make use of it creatively and constructively
INVOLVE PARENTS
*Offer insight into Swagat Library activities (classroom)
*Notify parents of their child's academic performance and other interests
*Exhibit student work and presentations
Showcase awards and accomplishments with photos – Certificates, etc.
*Choose to receive feedback via email
*Stay connected with Student/Teacher at Facebook to know of Activities
*Display Student's work to +190 Countries through Swagat 'Kidsfreesouls.com' Global Network
Boost Professional Development
*Provide Parents/Teachers with knowledge sharing platform.
*Provide information and help Parents/Teachers too – to use Facebook constructively and also guide for right information
*Exchange Instructional tips and course related resources.
Well, Blogging is not a cup of tea for any Tom, Dick & Harry. It demands serious Blogging. Creating posts every day proves a tougher
challenge, and the vast majority of blogs don't last for very long. Non-writers who think writing is easy find out that one to three entries a day, every day, doesn't just roll out of the brain and into the 'post comment' field of a blog. Efforts do pay in results.